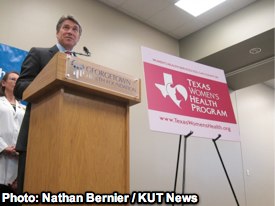 (Becca Aaronson, Texas Tribune)
The Texas Women's Health Program that excludes clinics like Planned Parenthood that are affiliated with abortion providers will not launch on Thursday as the state planned.
Despite comments Wednesday morning from Texas Health and Human Services Commission Executive Commissioner Kyle Janek indicating the program would be ready to start on Nov. 1, an agency spokeswoman confirmed that the state-led program would not begin until ongoing court controversy over the issue is clarified.
"We're continuing with the Medicaid program until [the federal government] cuts off the funding or we have a final court decision that wouldn't allow us to enforce state law," Stephanie Goodman, spokeswoman for the Health and Human Services Commission, said in an email to The Texas Tribune.
News of the delay came on the heels of a press conference with Gov. Rick Perry and Janek in which the governor reiterated his dedication to stanching the flow of state money to clinics affiliated with abortion providers. He also indicated that the state was ready to move forward with its new program that excludes those clinics.
"Texas will not allow a program that includes abortion providers or their affiliates like Planned Parenthood to be a provider," Perry said at the Lone Star Circle of Care Clinic in Georgetown. If Planned Parenthood succeeds in its legal challenges to the Texas Women's Health Program, "they will kill this program, and they will be responsible for denying these important health services to low income women today," Perry said.   […]
The Women's Health Program serves impoverished women who would be eligible for Texas Medicaid if they became pregnant. About 130,000 Texas women are enrolled in the program, which provides cancer screenings and contraception — but not abortions.
The state receives a higher funding match for that program from the federal government — $9 for every $1 spent by the state — than for traditional Medicaid.
State lawmakers passed a law in 2011 known as the "Affiliate Ban Rule," which prohibits organizations affiliated with abortion providers from participating in the Women's Health Program.
(Read the full story at the Texas Tribune)
RELATED COVERAGE:
OTHER LOCAL AREA HEADLINES:
STATE, NATION & WORLD: