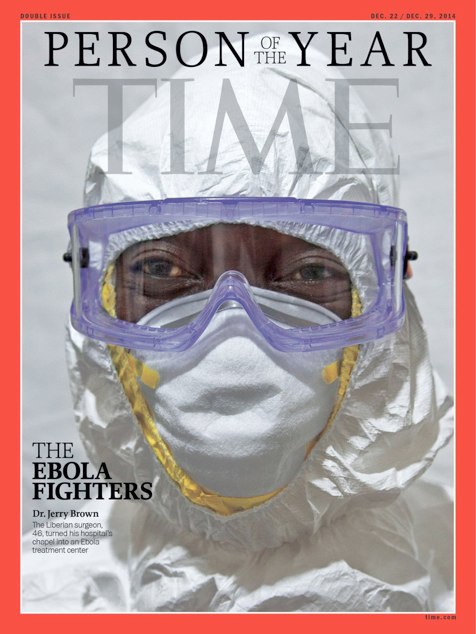 GALVESTON, Texas — Time magazine's 2014 Person of the Year is not one but many — the Ebola fighters. Among those spotlighted is Thomas Geisbert, professor of microbiology and immunology at the University of Texas Medical Branch, who is currently testing potential vaccines and treatments at the Galveston National Laboratory.
"We're extremely proud of Dr. Geisbert and his work as well as the cutting edge research that so many of our scientists are conducting," said UTMB president Dr. David L. Callender. "We're extremely pleased that the hard work of our scientists is being recognized. Congratulations to Dr. Geisbert."
Geisbert, who has been studying the Ebola virus for three decades, told the magazine that "When I do this work, I take it personally." He notes that patients survived who had received one of the experimental drugs he's worked on (TKM-Ebola). He added that "there are so many confounding variables, so how can you say any one thing made the difference? But it's a great feeling knowing I was involved in the development of something that hopefully saved somebody. And if it saved one person, it matters."
Callender said that "Geisbert exemplifies UTMB's commitment to fighting infectious diseases" and noted that UTMB continues to play role in the fight against Ebola. Earlier this year, UTMB stepped up to offer its unparalleled experience and facilities with regard to the virus. In addition to being the first site in Texas designated as a treatment center for Ebola patients, UTMB also safely disposed of the medical waste from the first case in Dallas.
Dr. James Le Duc, director of the GNL, the first and largest fully operational biosafety level four laboratory on an academic campus in the United States, is a member of the Texas Governor's Task Force on Infectious Disease Preparedness and Response. Without the high containment facilities in the GNL, there would be no way for scientists to safely develop and test vaccines and therapeutics for deadly pathogens.
Dr. Thomas Ksiazek, director of high-containment operations at the GNL, also is a member of the task force. As former head of the Special Pathogens Branch at the Centers for Disease Control and Prevention, he was asked by the agency to go to Sierra Leone earlier this year, where he spent more than six weeks in that country leading efforts on the ground.
Callender said that he was "pleased that UTMB scientists are among the leaders waging war on deadly diseases around the world — not only Ebola but all the pathogens that have such a tremendous impact on people."