WEDNESDAY TOP NEWS LINKS:
On Tuesday afternoon, Sen. Ted Cruz (R, TX), stood-up to begin a filibuster-like opposition to the Affordable Care Act, meanwhile the Federal government began to release details on health care premium rates that will be available through the state exchanges. Texas rates are comparatively low compared to other states.
Becca Aaronson, Texas Tribune
As the nation watched U.S. Sen. Ted Cruz on Tuesday argue for hours to defund Obamacare — even at the cost of shutting down the federal government — the Obama administration released preliminary data showing that premium rates in the health insurance marketplace created by the law will be comparatively low for Texans.
"In just 99 days, millions of Americans will finally have the security and peace of mind that have eluded them for years," U.S. Health and Human Services Secretary Kathleen Sebelius said on a press call, "as coverage starts to kick in on insurance purchased through the new health insurance marketplace."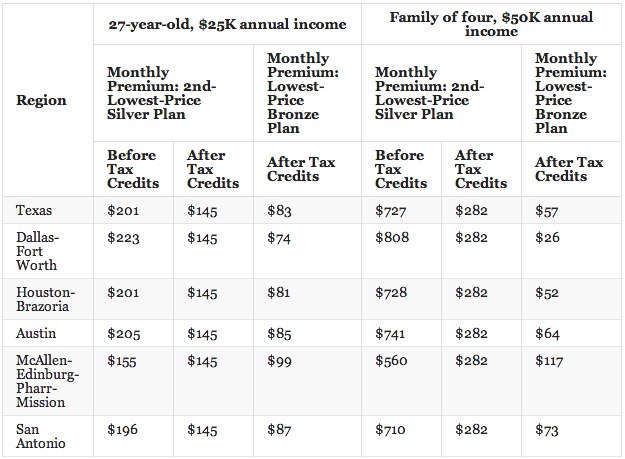 To help people comply with the individual health insurance mandate that takes effect on Jan. 1, the federal government will launch an Orbitz-style online marketplace on Oct. 1 for consumers to apply for tax credits and compare and purchase health plans.
According to the federal report released Tuesday night, Texas will have comparatively low premium rates for health plans offered in the federal marketplace compared with other states. The average monthly rate for a standard plan in the 48 states analyzed in the report was $328, while Texas' was $305. Fourteen states and the District of Columbia will have lower rates on average than Texas for a standard health plan offered in the marketplace.
"Texas has historically had a reasonably competitive insurance market compared to some states," said Gary Cohen, director of the Center for Consumer Information and Insurance Oversight at the federal Centers for Medicare and Medicaid Services. He explained that in some states one insurance carrier may dominate 75 to 80 percent of the market. "Texas has not had that situation," he said.
Texans will have on average 54 health plan options available in the federal marketplace. The number of available plans will vary depending on the region. For example, people in Austin will have 76 health plans to choose from on average, while people in the Rio Grande Valley will only have 30 options on average.
Four types of plans will be offered in the marketplace: Bronze, Silver, Gold and Platinum. In general, Bronze plans will have lower monthly premiums but higher out-of-pocket costs, while Platinum plans will have the highest monthly premiums but lower out-of-pocket costs. Premium rates and out-of-pocket costs will vary depending on age, the number of people in the household and the region in which the person lives, among other factors. Ultimately, the prices are based on the estimated cost of health care services over the course of a year.
People who have annual incomes between 100 and 400 percent of the federal poverty line will qualify for sliding-scale tax credits to help them purchase a health plan in the federal marketplace. For an individual, that's an annual income of $11,490 to $45,960; for a family of four, it's $23,550 to $94,200.
Use the table to see how monthly premium rates will vary in major metropolitan regions of Texas under the federal insurance marketplace, depending on age, income and type of coverage selected.
(Read more of this story at Texas Tribune)
RELATED STORIES
LOCAL AREA HEADLINES:
TEXAS HEADLINES:
NATION & WORLD: