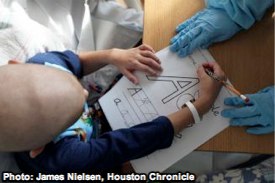 (Monica Rhor, Houston Chronicle)
In the morning, Donna Shanklin-Henderson settles her soul and girds her spirit with prayer and meditation. She banishes the tiniest pebbles of pessimism and fixes her mind on one abiding thought.
All of my students will go home, she tells herself, inscribing the belief deep in her core. They will live happy, healthy lives.
Then Shanklin-Henderson heads to Texas Children's Hospital and boards an elevator to the 16th floor, rising past floors awash in shades of teal blue, mint green and sunshine yellow, past rooms where children battle cancer and brain tumors, leukemia and lupus, diabetes and other diseases with names too tongue-twisting to pronounce. […]
Shanklin-Henderson's destination is tucked in the corner of a purple hallway, where a brightly colored sign beckons: "Welcome to Room 286. HISD Schools." Inside this room, in a place where daily miracles coexist with unimaginable losses, she and two fellow Houston Independent School District teachers, Elisama Lerma and Natasha Mallone, offer hope in the guise of a lesson plan. They provide a link to normalcy for children whose lives have been upended, a soothing shoulder for parents whose strength is being strained.
They craft schedules around bone marrow transplants and physical therapy sessions. They teach phonics to kindergartners recovering from brain surgery and science to high school students enduring chemotherapy. And, using laptops, iPads and a computer on wheels, they bring school to the bedsides of children unable to leave their rooms.
But each day begins with a reminder that this is not a regular classroom, and that their pupils grapple with problems much bigger than passing a test. That's when Shanklin-Henderson reviews the hospital census to see which students are still enrolled. Some may have been released. Others may have changed rooms. A few may have been transferred to different floors as their condition worsens or improves. And, sometimes, on the bleakest of days, one of their kids may not have made it through the night.
"Miracles are happening all the time. We see kids improving, so my expectation is that all of my students will get better," Shanklin-Henderson says. "But here every day, there's the possibility that their recovery might not happen the way you like."
Indeed, during a two-week span in October, the teachers in Room 286 hailed the achievements of children emerging from illness, bid happy good-byes to students ready to go home – and were left staggered and grief-stricken by the sudden death of a young patient with gentle eyes and a lyrical laugh.
(Read more of this story at the Houston Chronicle)
OTHER LOCAL HEADLINES:
STATE, NATION & WORLD: