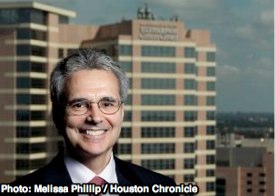 (Todd Ackerman, Houston Chronicle)
The president of the University of Texas M.D. Anderson Cancer Center has been granted a limited waiver from the institution's conflict-of-interest policy, allowing him to maintain financial ties with his three principal pharmaceutical companies.
Dr. Kenneth Shine, the UT System's vice chancellor for health affairs, revealed the decision in a letter to Dr. Ronald DePinho, the center's president. The letter, made available Tuesday, said DePinho's holdings in Aveo, Karyopharm and Metamark will be placed in a blind trust as part of the waiver.
DePinho requested a multi-company waiver in April.
"Not allowing patients to have the benefit of clinical trials or other agents from these companies would not be in the patient's best interests as long as adequate safeguards are in place," wrote Shine. "At the same time I have concluded that allowing a waiver for a particular relationship must be a very limited event, particularly in view of the need for scrupulous oversight of each trial and in view of the principle that a waiver is granted only in exceptional circumstances."
In an interview with the Houston Chronicle, Shine said "elaborate, detailed" provisions would be applied to any research involving companies in which DePinho has financial interests. He said consent forms for all trials involving the companies will disclose those relationships to patients.
In an email to M.D. Anderson employees Tuesday, DePinho applauded the decision, saying it "confirms M.D. Anderson's focus on protecting our patients first and making great strides in accomplishing our mission to eliminate cancer."
DePinho's original request named 10 for-profit companies and two not-for-profit institutions where he has financial ties – equity interest, intellectual property rights or past or possible future compensation. One expert called DePinho the "quintessential multi-vested scientist administrator" and said his request was the "most brash" he'd ever heard of.
Shine said that for the other companies named in DePinho's request, the M.D. Anderson president has divested or will divest most of his interests in "a timely manner" or "no waiver was required or granted at the present time." Shine gave no breakdown of which requests didn't require waivers, and declined to give a timeline of DePinho's remaining divestitures.
(Read the full story at the Houston Chronicle)
LOCAL AREA HEADLINES:
STATE, NATION & WORLD: