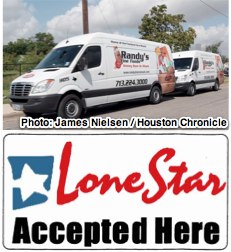 (Terri Langford, Houston Chronicle)
At the corner of Milby and Navigation in Houston's East End, business at Randy's Fine Foods is booming.
Never heard of them? Then you're not a Lone Star Card user, the food stamp-enabled debit card [now known as SNAP – Supplemental Nutrition Assistance Program] that has soared in use over the past two years, with a million more Texans added since 2008. As of July, more than 3.6 million had Lone Star Cards.
For about 20 years, Randy's mobile food trucks have traveled under the radar of the privileged, circulating in neighborhoods and delivering food here and across the state. Randy's and a handful of companies like it – Boxes and Bags Mobile Grocery and Bag Lady on Wheels – go to areas where people are without a car and a local grocery store or both.
"We rarely get cash," said Keidrick James, a Randy's manager, who estimates "99.1" of the company's customers are Lone Star Card holders. Randy's drivers sell what the company bought from grocery behemoth Sysco Foods. Frozen meat and breaded shrimp. Catfish nuggets and chicken tenders. But junk food is the big seller.
"Exactly," James confirms. Pop Tarts, Famous Amos and Oreo cookies. Honey buns, candy bars and corn dogs. Laffy Taffy and cheesecake. Pickles are the only vegetable listed on a Randy's menu.
But in the nation's fourth-largest city, a place trying to forget it was once named the nation's fattest, where there are about 4,000 convenience stores and an ongoing grocery war in the city's better neighborhoods west of downtown, it doesn't seem like there's a shortage of high caloric and, some would argue, junkier foods. And the mobile food truck model is a striking one, especially as several states consider taxes on sugary snacks or have sought – as Texas unsuccessfully tried – to restrict food stamp clients from buying junk food.
The Texas Health and Human Services Commission, which runs the Lone Star Card program for the USDA, has doubts about grocery store vans whose customer base is a captive Lone Star Card market.
"Vans that deliver food may provide a convenience for families without transportation, but it comes at a high price," said Stephanie Goodman, HHSC spokeswoman. "The prices can be so high that it hurts families struggling to make ends meet in the long run."
(Read the rest of the story at the Houston Chronicle)
OTHER LOCAL HEADLINES:
STATE, NATION & WORLD