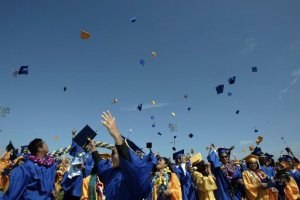 (Jennifer Radcliffe, Houston Chronicle)
Graduation rates for Texas' black and Hispanic students topped 80 percent for the first time in state history in 2011, but they still lagged behind the record-setting overall graduation rate of 86 percent, the Texas Education Agency reported Friday.
Hispanic graduation rates increased 3 percentage points to 81.8 percent, while black students' rate increased 2 percentage points to 80.9 percent.
"It is good news, but certainly we still have a lot of work to do," said Laura Murillo, president of the Houston Hispanic Chamber of Commerce.
Statewide, boys continue to be less likely to graduate, with a rate of 83.7 percent, compared to the 88.2 percent of girls. The graduation rate for Houston ISD's Class of 2011 was 78.5 percent, according to figures the district released last month.
Reducing the number of high school dropouts has been identified as a key issue for the state's economic success. A Texas A&M University study from 2009 found that one year's class of dropouts costs Texas $9.6 billion in lost wages, reduced sales tax and welfare expenses.
(Read more of this story at the Houston Chronicle)
OTHER LOCAL HEADLINES:
STATE, NATION, & WORLD: